Managing Your Account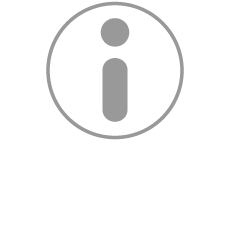 We're here to help you protect your payments business and stay resilient with updates, resources and how-to's
Get up-to-date information
Manage Your Business Accounts 24/7
Your online account empowers you to optimize your business reports and data to make strategic decisions about your business. It conveniently provides access to your merchant, banking, and credit card accounts with Chase all in one place providing an overall view of business.
Update account details
Monitor transaction activity including settlement and funding overviews
Enrollment is quick and simple. Sign in to create your profile.

Learn more about account features and explore the online demo.
Access Your Accounts On the Go
Your account is available on the go with mobile access through the Chase Mobile app and Chase Mobile Checkout. Set alerts to receive real-time information through email, text, or push notifications. Setting alerts is quick and simple. For instructions, see FAQ below.
*Download the Chase Mobile app in the app store.
You can view your Merchant Services account information on your account activity page or the summary page.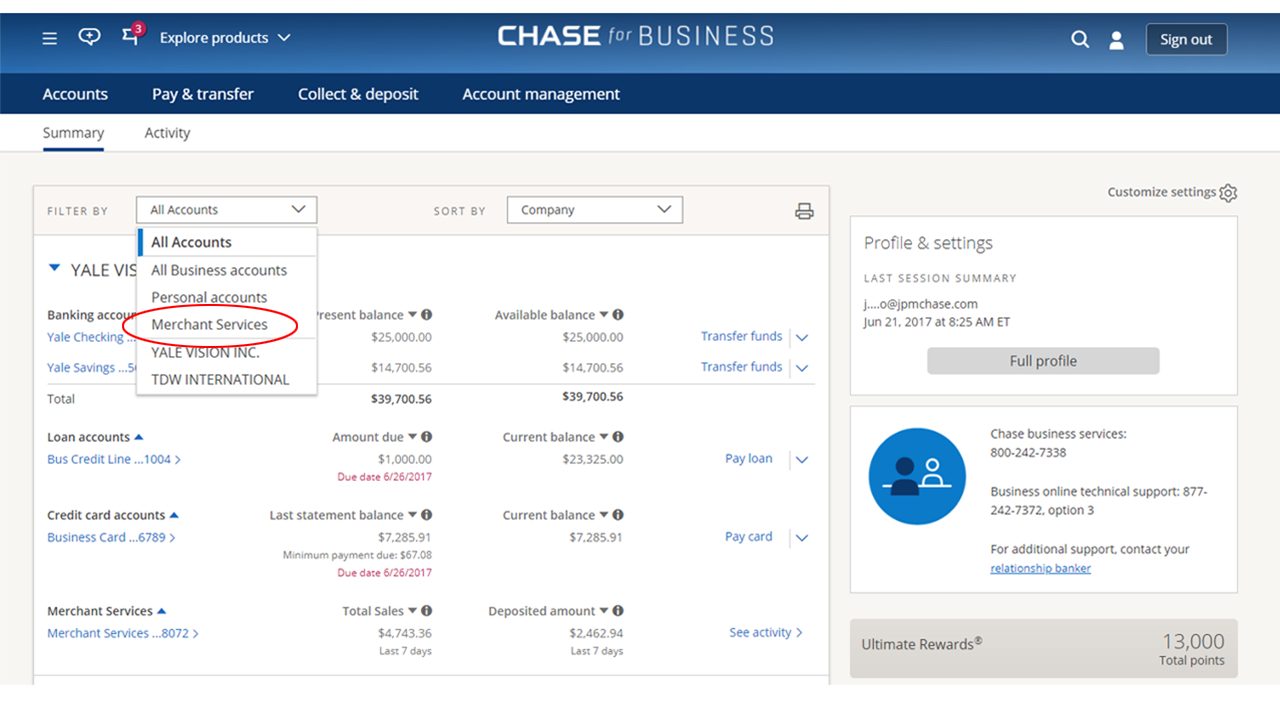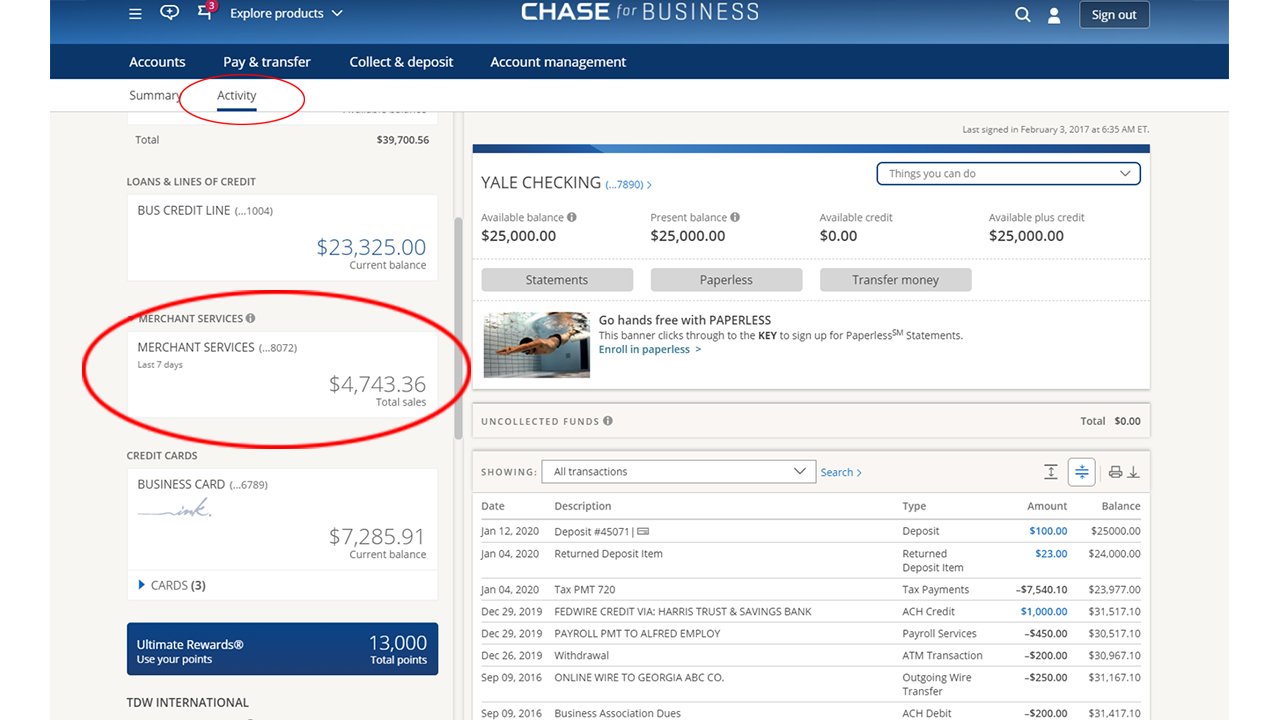 ---
You can view your transaction activity, deposits and chargebacks and disputes; you can also print or download your account information.
---
You can find your statement from the main menu (≡ icon), select Statements & Documents, then select your Merchant Services account from the left pane. Or, you can click the Statements button on your Merchant Services account Activity page.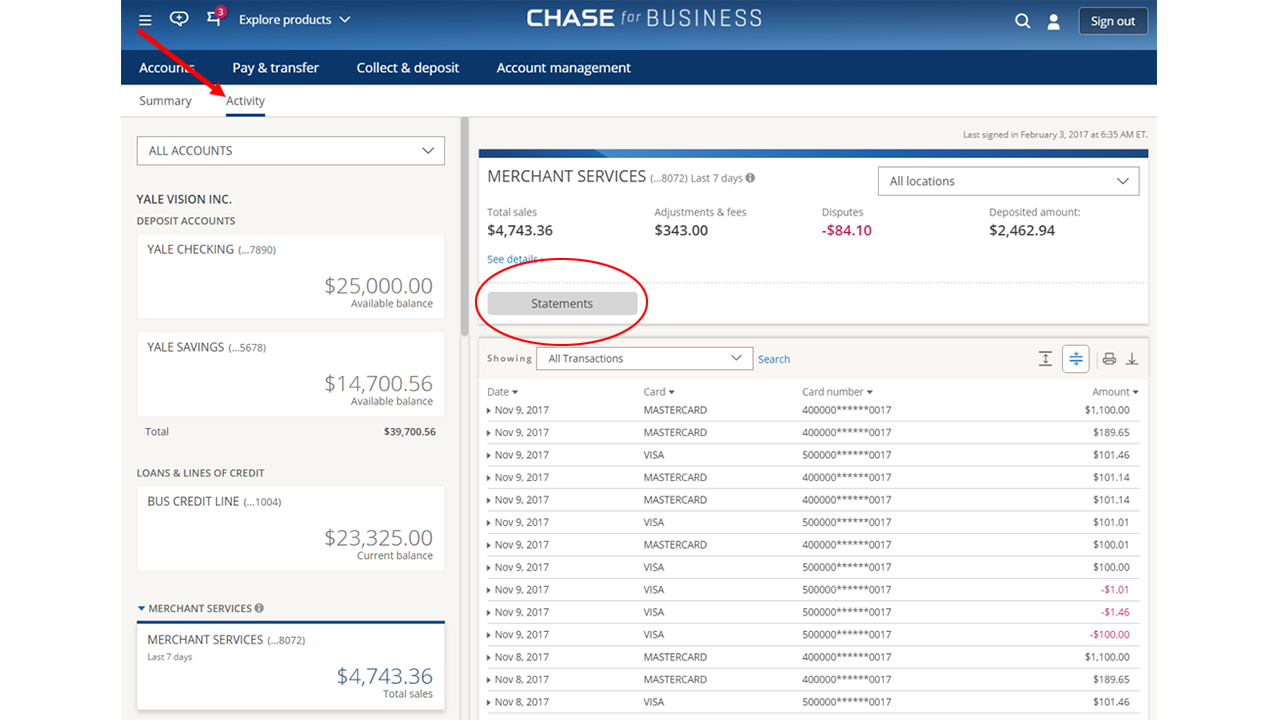 ---
You can find your transactions under the Merchant Services Account section.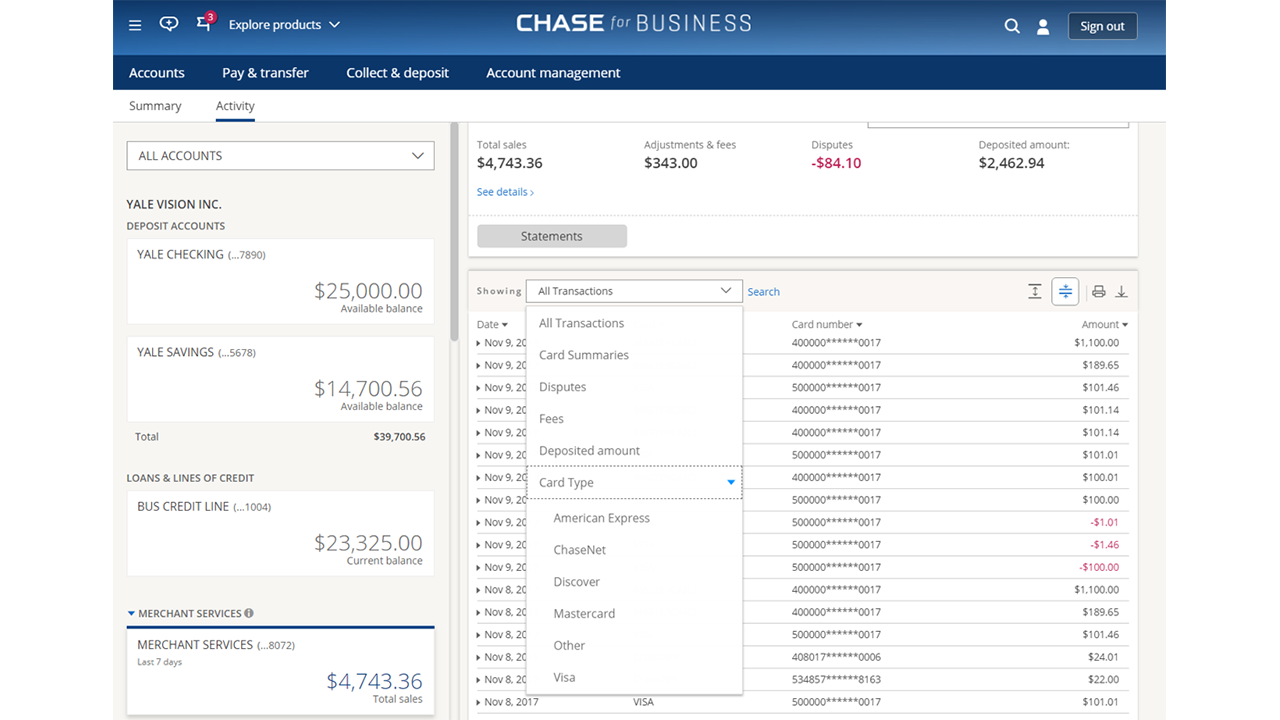 ---
If you already have a CBO account, simply sign in with your existing user name and password. If not, simply download the Chase Mobile® app from the App Store. View your transactions and manage your account information from the app on your mobile phone or tablet.
---
---
---
• Update your profile and settings.
Go to "Account management" on the menu bar; click "Profile & settings".
From the left-side menu, under "Alerts," select "Choose alerts".
• Choose your alerts.
Select your merchant account and desired alerts from the drop down lists. You can sign up for as many as you'd like.
Select your preferred format: email, text message, push notification.
• Save your changes.
Receive alerts about your account activity including statements, deposits, and disputed charges.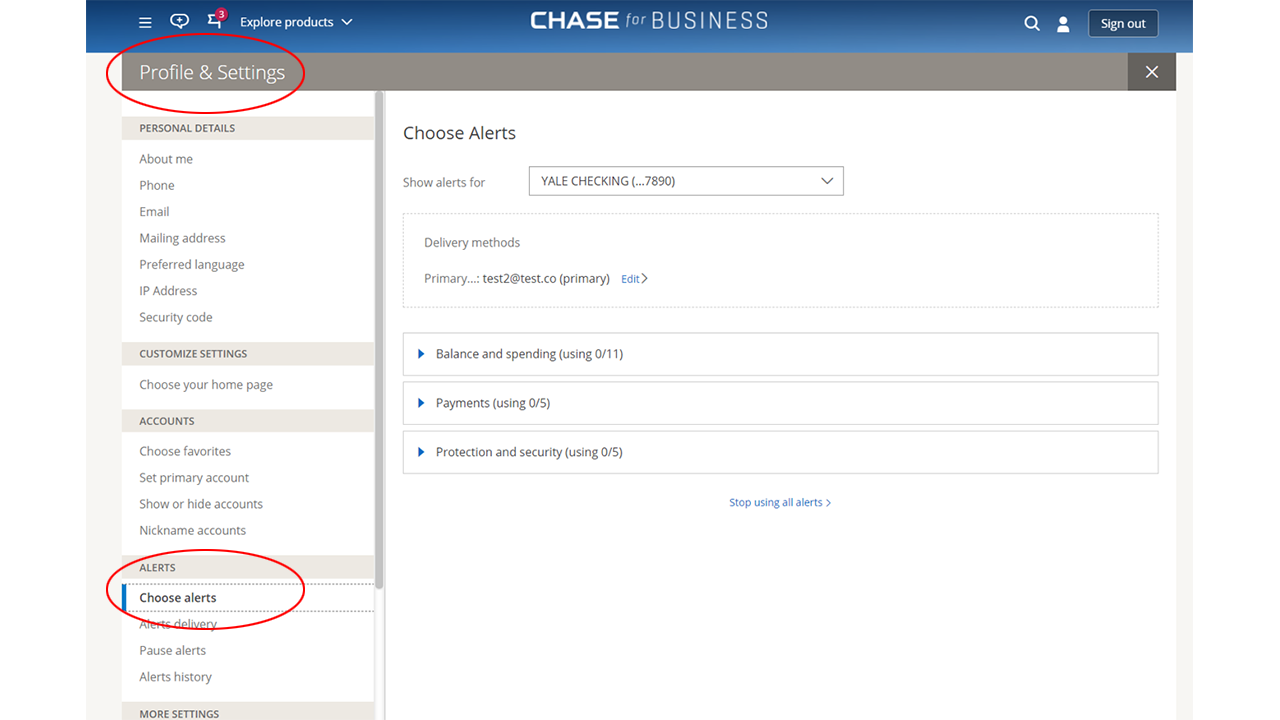 ---
From the Account Activity Page:
1. Select a Merchant Services account from the left panel.
2. Select "Deposit Account." Your current deposit account will be visible. Confirm this is correct or click "Update deposit account" to make your changes. Please note if you have more than one deposit account, you will see a message to contact us to help update your account.
3. Complete the multifactor authentication process.
4. Select a new account. Both your Chase accounts and externally linked accounts will be available for selection in the dropdown list.
5. Confirm the update.
To add a new external account:
Click "Add new external account" and follow the instructions to add the new account to the dropdown list. Select the new account from the list and proceed with the update. External accounts will require additional validation steps to validate the account.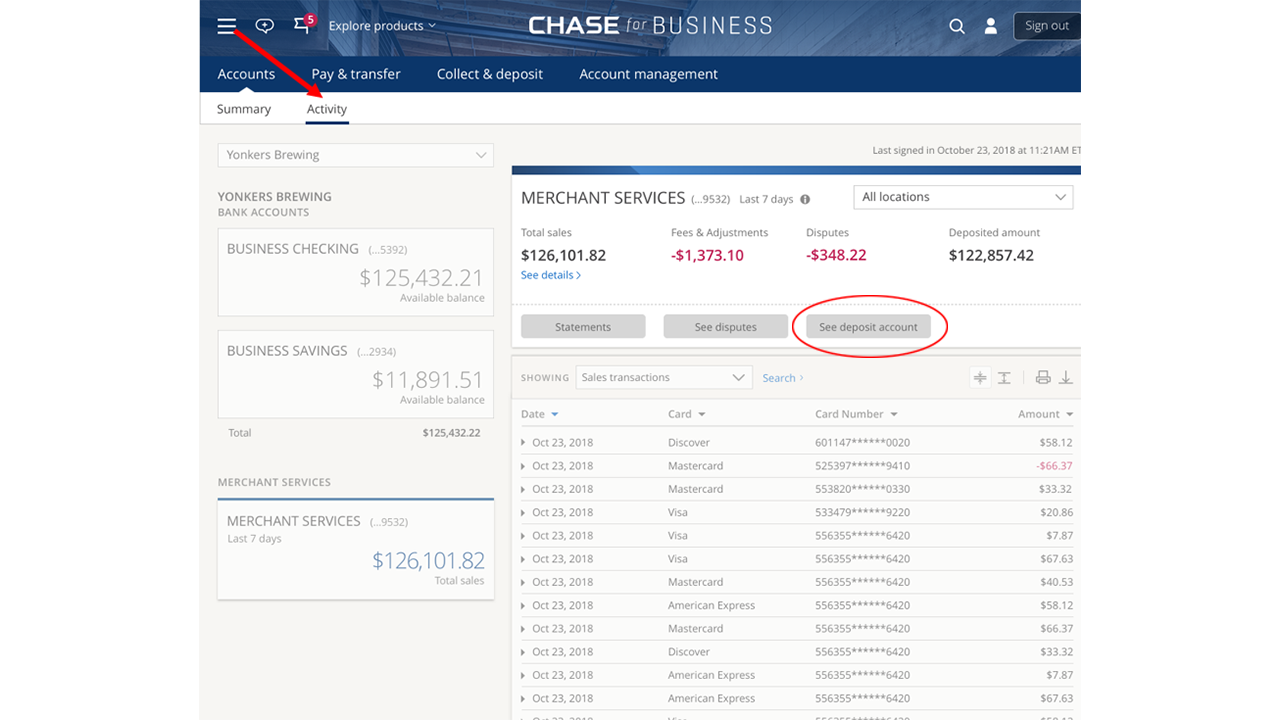 ---
---