Help Using Online Reporting Tools
Have a quick question about Resource Online (ROL) or Paymentech Online (PTO)? Check out our FAQs and reference guides to get the answers you need right away.
How-to
How to Access Your Account on the Go
Your merchant services account includes complimentary access to one of our web-based reporting tools, Resource Online or Paymentech Online, which are available from any Internet-connected computer. You can access any of the web-based tools from the Merchant Login page.
In addition to these back-office tools, you'll also receive access to our Chase Mobile Checkout app's reporting features, which let you view your payment processing figures on the go using your smartphone or tablet, at no extra cost.
All you need to do is download and install the app, then log in with your existing online account user name and password. You'll also be prompted to register the device for the first time, to help us keep the sensitive data more secure.
Once you get access to Chase Mobile Checkout, you will see the Reporting Dashboard.
In the top-right corner, you can tap the Customize Dashboard icon to show, hide or rearrange your widgets by dragging them around. Tap Save when you're finished.
The dashboard is interactive. You can tap on the wheels to get more information.
You can also tap the Share icon to send an image of your Dashboard in an email.
Today's Transactions lists the time, payment brand and amount of the most recent transactions you submitted today.
Tap the widget to view the Transaction Summary screen, where you can search for specific transactions and view detail.
The Sales Trends widget features a bar graph of your sales totals for each day, across a week.
Tap it to access the Sales Overview screen, where you can look at summaries and details of your sales, and progress toward your sales goal.
Settlement Overview displays closed batch figures as a total and broken out in a circular wheel format. Each color on the wheel represents a different payment brand or type. You can use your finger to rotate the wheel or tap the arrows, to change the subtotal that displays.
The Funding Overview widget displays funding events and account fees as a total and broken out in a circular wheel format. You can use your finger to rotate the wheel or tap the arrows, to change the subtotal that displays.
The Chargebacks widget lists the total amount for chargebacks currently in process. Tap it to view the chargebacks in summary format and in detail.
Fees displays a total of all fees assessed to your account over the past month.
How to Log In to Your Resource Online Account
On the Merchant Login, page, select Resource Online and click the Go button.
Enter your Chase Merchant Services user name.
Click Login.
Verify your personal image and security phrase.
Key in your password.
Click Submit.
How to Change Your Password
On the Login page, click the small Need Assistance Logging In link below the Login button.
On the Need Assistance page, click the Reset Your Password link in the Forgotten Password section.
Enter your user name and email address.
Click the Submit button.
Note: A temporary, single-use password will be sent to the registered email address for the user account. You'll need to establish a new password the next time you log in.
How to Find Your Merchant Account Statement
The Instant Dashboard displays several panels with payments information that is critical for your business.
On the left column, the Statements panel displays links to your five most recent statements.
You may need to select the red Advanced Options link and specify your hierarchy to view the statements.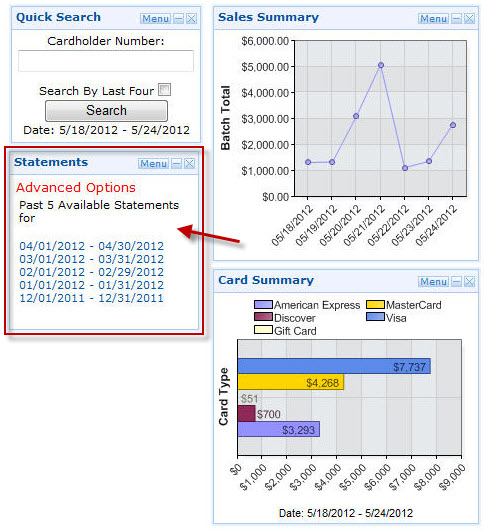 How to Search for Recent Transactions
To search for a specific transaction by the beginning of the cardholder number or last four digits:
Enter the number or last four in the Quick Search panel on the Instant Dashboard.
Click Search.
Note: Unless you select the Search By Last 4 checkbox, the search feature will assume the value you enter is the beginning of a full card number.
To search using a different identifier:
On the Virtual Transaction Manager menu, select Batch and Transaction Reports.
Click Transaction Search.
You can search by date, card type, amount, etc.
Click the Generate Report button to view your results.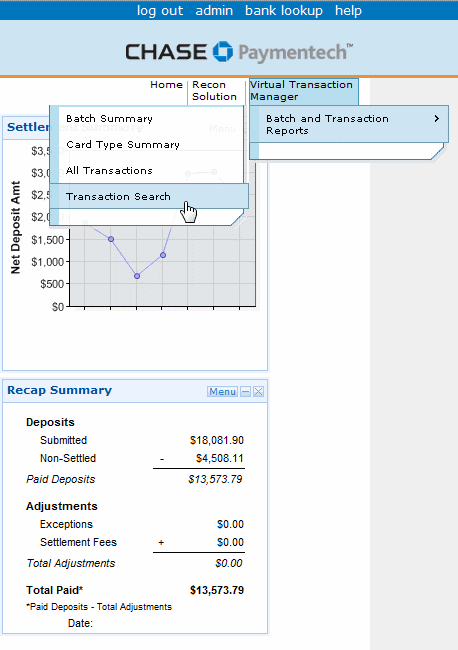 How to View Your Batch Reports
The Sales Summary panel charts your recent batch totals by day so you can immediately assess your daily sales totals. You can hover over the data points to view that day's total items sold, total sales amount and more.How to View Your Batch Reports
For more detail, you can click the Sales Summary panel header to open the Batch Summary report, which can also be accessed from the Recon Solution menu on the top navigation bar.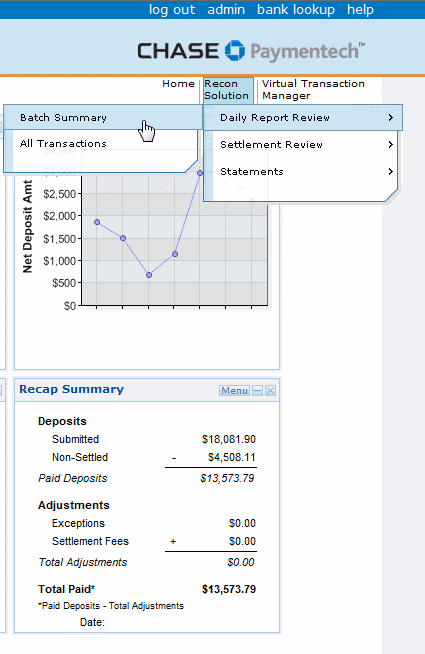 How to View the Amount of Money Deposited into Your Merchant Bank Account
The Settlement Summary panel charts your net deposit by day – the net funding amount sent to your merchant bank after fees have been deducted (where applicable). The date displayed is the date Chase transferred the funds to your banking institution; you should verify with your bank when the money they received was posted to your designated settlement account.
For more detail, click the Settlement Summary panel header to open the Settlement Summary Select report, which can also be accessed from the Recon Solution menu on the top navigation bar.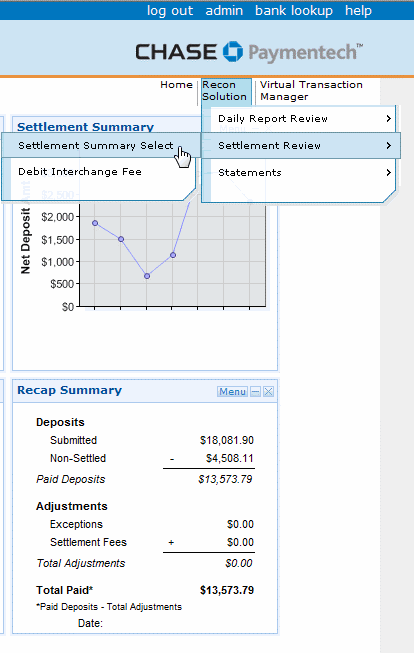 How to View Transaction Fees
The Recap Summary panel shows the calculation of your total amount of transactions submitted minus the total amount of transactions that did not yet settle, and then takes into account exception items and settlement fees to show the total net deposited amount paid into your account.
The Settlement Fees line item displays your total fees, including for authorization, settlement, equipment, etc.
How Much of Your Reporting Data is Available for Viewing
Authorization data is available in Resource Online for up to 3 months.
Settlement data (summary, detail, chargeback, statements) is available in Resource Online for up to 13 months.
Data files remain in the File Download area for 90 days, after which time they are automatically deleted – regardless of whether or not the file has been downloaded.
The Account Number Masking feature masks portions of cardholder account number to prevent unnecessary exposure of sensitive data – protecting your customers and your business.
How to Change Columns in Reports
The Preferences feature allows you to add, remove or change the order of your report details. These changes can increase or decrease the width of the report.
On your report results page, click the Preferences icon.
On the Preferences page, you can specify the report in the Available Reports dropdown.
Select the field name in the Available Fields list box and click the arrows to move the selected field(s) to the Selected Fields list box for the selected report.
The Move Up and Move Down buttons can be used to change the order of the fields that display in the report.
When finished, click the Save button.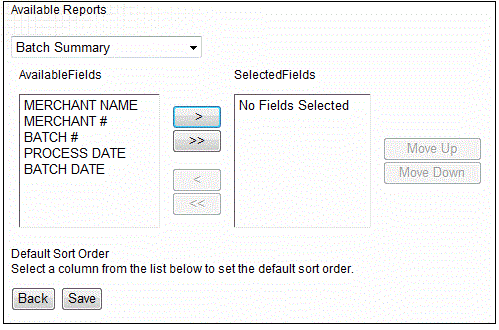 How to Manage Chargebacks
The payment industry allows your customers 120 days to dispute a transaction, and up to two chances per transaction.
Resource Online's optional Online Chargeback Management System allows you to eliminate the paper and both view and respond to your chargebacks electronically.
Please call Merchant Services at 1.888.886.8869 to discuss adding the Online Chargeback Management System to your merchant account.
How to Download Your Reporting Data
On your report results page, click the Download icon to export your data.
In the File Download dialog box, you can select to open or save the comma-separated values file and then view it in Microsoft® Excel® or Access® , or import it into another application for accounting and reconciliation purposes.
How to Look Up the Issuing Bank's Contact Information
On the top navigation bar, click Bank Lookup.
Enter the first six digits of the card number.
Click the Search button.
Note: The information that displays will include specific details about the bank that issued the customer's card and will vary by issuer. It can be helpful when researching chargebacks or retrievals.
How to Select and View Other Merchant Locations and Numbers
To view statements for other locations, in the Instant Dashboard's Statements panel, click the red Advanced Options link to select from the Hierarchy/Merchant # dropdown.
Or to view reports for other locations, navigate to a report input page by clicking on a panel header or using the main menus, and specify the hierarchy level and location in the Selected Hierarchy and Quick Search areas.
How to Set Up Additional Users
Admin-level users can click the Admin link on the top menu of any screen to visit the administration module of Resource Online.
On the User Summary page, you can add a new user or delete a selected user.
To ensure the security of your sensitive data, account verification and contact authentication will be required.
How to Get Additional Help
If you are having technical trouble and would like help from a member of our Advanced Product Support group, then contact 1.800.254.9556.
If you have a question about fees or need general support for your existing processing account, you can call Chase Merchant Services at 1.888.886.8869.
FAQs
Are there guides to help me manage my reporting?
We have a number of guides to quickly help you manage your reporting. Also, most common reporting functions are embedded into each application for easy access.
How do I access my reporting tool?
If you are a current Resource Online (ROL) user, click here to log in to your account securely. Current Paymentech Online (PTO) users should visit My Paymentech to log in to their account. The Online Chargeback Management System is integrated and can be accessed via those tools.
What reporting options are suitable for a small business?
ROL provides several options for small business. The PRO package includes an Instant Dashboard for merchants who may not have much time to spend on business operations. We also offer SELECT and PREMIER packages which provide more advanced reports that can, for example, help chains identify opportunities to improve and streamline operations, in addition to trending and analysis tools.
What reporting capabilities do you offer for large enterprises?
PTO provides large enterprises with comprehensive data to reconcile payment transactions, optimize processing, manage fraud and streamline operations. PTO provides a variety of financial, submission, risk and analysis reports as well as free access to our robust Online Chargeback Management System.
How can you help me manage chargebacks?
Using our Online Chargeback Management System, you can quickly and easily respond to chargeback and retrieval requests. All your chargeback information is accessible via this interface, which lets you accept or reject chargebacks, upload supporting documents or assign cases to your chargeback analysts.
Do I need any special equipment?
Online reporting and online chargeback management are browser-based applications, so all you need to get started is a computer, a browser such as Internet Explorer, an Internet connection and a valid email address.
How can a reporting solution help my business?
We have a variety of online data management tools that help you to streamline front-end operations with instant access to your transactions or to optimize your back-end reconciliation by zeroing in on missing deposits or rejected transactions.
Are these third-party services?
ROL, PTO and the Online Chargeback Management System are all developed and maintained by Chase Merchant Services; we are your experts for statement, reporting and chargeback management questions.
Reference Guides
View, save or print these downloadable documents to help you get up to speed.
Learn how to read your statement by using our interactive guide.
View, save and print the Statement Reader Guide (PDF), so you can interpret your statement any time you need help.
View a list of Statement Fees Definitions to learn more about why certain fees may appear on your statement.
If you have accessibility issues with reviewing the documents and require further assistance, please contact Chase Accessibility Services at 1-855-644-4561 for further support.