Online POS Terminal Reference Guide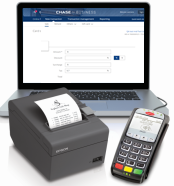 Thank you for choosing Online POS Terminal. Use this guide to set up your Online POS Terminal, explain the iPP 320 PIN pad features and familiarize yourself with your new payment processing system.
Card Reader
iPP 320 PIN pad
Software Security
The software on this terminal has been secured. This will protect it from both inadvertent overwriting and malicious tampering. If you need help with changes or updates, please contact a representative at our service desk.

Overview
Online POS Terminal is a browser-based payment processing application that lets you use your desktop or laptop computer as if it were a point-of-sale terminal. With it, you can:
• Process EMV chip and magnetic stripe credit and debit cards, select contactless cards and mobile wallets as well as gift card transactions

• Process and record transactions such as sales, refunds and voids,
including PIN debit transactions

• Process encrypted swipe transactions using the Magtek Dynamag
card reader

• Distribute digital receipts to customers via email or text message

• Search for and view current and historical account activity

• Take advantage of automatic daily batch settlement or manage your
settlement manually

• Take your payment reporting on the go with Chase Mobile Checkout

How to Get Additional Help
For Product Support
Contact Chase's Online POS Terminal Support at 1-800-254-9556 or email
If you have a question about fees or need general support for your existing processing account, you can call Chase at 1-888-886-8869.