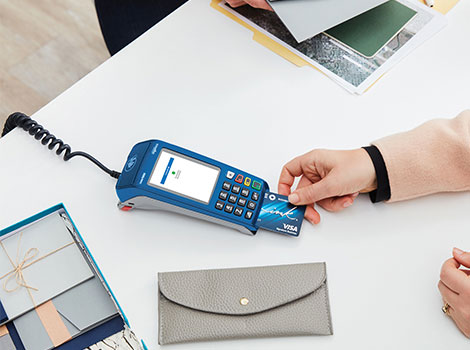 Quick dip, tap and swipe transactions.
Get a 2.6% rate +10¢ per tap, dip and swiped transaction or get a 3.5% rate +10¢ per keyed transaction1

Complete the short form below.
CHASE MERCHANT ACCOUNT
Get the ability to accept card payments – including chip-enabled cards, mobile wallets, tap cards and:
Get 24/7 Chase customer support
Next Business Day Funding - when you deposit into a Chase business checking account2.
Start Today
Some fields are required
IMPORTANT INFORMATION:
1Rate Information: Mastercard, Visa, American Express, Discover, and Chase Transactions involving physical Credit and Signature Debit cards will be assessed 2.6% discount rate and $0.10 per tap, dip or swiped transaction, and 3.5% discount rate and $0.10 per keyed transaction. PIN Debit, EBT Transactions and E-commerce transactions are excluded. Pricing is valid for new U.S. customers only and expires 12/31/2020. Not all businesses may qualify, talk to a payment specialist for more details.
2Next business day funding is available to eligible Chase merchant services clients who deposit into a single Chase business checking account. Visa®, MasterCard®, Discover®, and American Express® OptBlue® credit and debit transactions are eligible. All businesses are subject to business credit approval and all funds are subject to fraud monitoring. In addition, funding is subject to the terms and conditions of the merchant processing agreement. Chase must receive settled transactions by 10:00 pm EST (some businesses may qualify for a 11:59 pm ET settlement; talk to a Chase representative for more details). Funds are deposited on the next business day, excluding weekends and bank holidays. Some exclusions may apply. The listed payment brand(s) are not sponsors of this program. All marks are marks of their respective companies.
Merchant services are provided by Paymentech, LLC ("Chase"), a subsidiary of JPMorgan Chase bank, N.A.
JPMorgan Chase Bank, N.A. Member FDIC