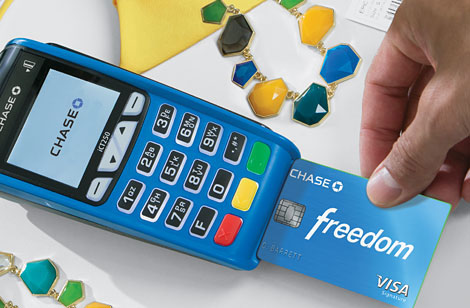 Get Paid Faster When Accepting Credit Cards
With a Chase merchant services and business checking account, get next business day funding for you credit and debit card sales.

Call us at 888.849.8973 or complete the short form below to learn more.
—

Chase Merchant Account

—

Get the ability to accept all card payments including chip-enabled cards, mobile wallets, tap cards as well as:
Next Business Day Funding - With a Chase business checking account¹
Partner with a Leader - #1 in Merchant Processing Volume in U.S. Three Years in a Row²
Security and Fraud Protection - Leaving you less susceptible to a breach
24/7 Support - From our Customer Service team
Start Today!
All fields are required.
Businesses are required to complete an application and agree to terms and conditions at the time of enrollment. All businesses are subject to credit approval. Merchant services are provided by Paymentech, LLC ("Chase"), a subsidiary of JPMorgan Chase Bank, N.A.

¹ Next business day funding is available to eligible Chase merchant services clients who deposit into a single Chase business checking account. Visa®, MasterCard®, Discover®, and American Express® OptBlue® credit and debit transactions are eligible. All businesses are subject to business credit approval and all funds are subject to fraud monitoring. In addition, funding is subject to the terms and conditions of the merchant processing agreement. Chase must receive settled transactions by 11:59 pm EST. Funds are deposited on the next business day, excluding weekends and bank holidays. Some exclusions may apply, talk to a Chase Representative for more detail. The listed payment brand(s) are not sponsors of this program. All marks are marks of their respective companies.

² The Nilson Report, March 2017